Ludwig Mies van der Rohe briefly Ludwig Mies (March 27, 1886, Aachen – August 17, 1969), German architect and designer.
He worked in masonry workshops with his father, a stonemason. When he was 13, he moved to Berlin where he started working for art nouveau architect and furniture designer Bruno Paul. He made the first design in 1907 (Riehl House for the philosopher Alois Riehl). He started working with Architect Peter Behrens in 1908, where he conducted research on Karl Friedrich Schinkel and Frank Lloyd Wright. Mies moved to Berlin in 1913 and married Ada Bruhn. He opened his own architectural office in Berlin.
Let's take a look at Top 5 Construction of Mies Van Der Rohe
1. Farnsworth House
Farnsworth House (Farnsworth House) was completed in 1951 in Plano, America, Dr. Housing structure designed as a weekend home for Edith Farnsworth. Designed by Mies Van der Rohe, the house has an important place in the history of architecture; It emerged in the 20th century with a rational architectural understanding (also referred to as the International Style), which takes absolute geometry and symmetry into essence. In the traditional building language, Farnsworth House has a language that leads to a radical change with the principles of transparency, suspended state and simple building elements it creates.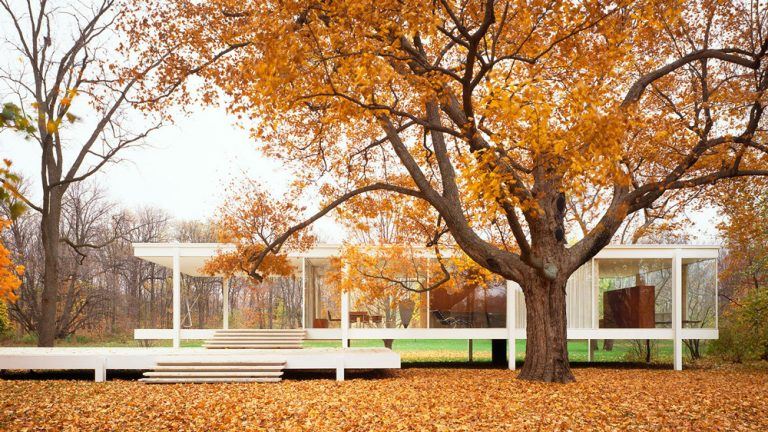 Mies Van der Rohe deals with three issues in his entire architectural journey: free space, expressive junction problems of the load-bearing frame, and iron construction technical solutions. Its world-famous structure, Farnsworth House, is one of the most important works he has solved and transferred. First of all, the furniture designed by Van der Rohe for the Bauhaus and the search for free space, which he put forward after the Barcelona Pavilion, can be provided with total architecture. When the house is examined, it is possible to see that the interior space is completely separated from the carriers, all facades are glass from top to bottom and a house is created that opens around it. The building is supported by 2 rows of columns from the outside; neither the facade nor the interior is interrupted by any carrier.
2. IBM Building 
Mimar Mies van der Rohe'nin ölümünden dört yıl sonra tamamlanan IBM Binası, şehirlerin en prestijli adreslerinden biri oldu. Zamanın mimarisinin saf bir sembolü olan yaklaşık 700 fit yüksekliğindeki dikdörtgen, alanın pürüzlülüğü göz önüne alındığında tek tip bir yüksekliği korumasına yardımcı olan yükseltilmiş bir kaide üzerine oturur; Eyalet Caddesi yapının batıya doğru dik bir şekilde eğimlidir.
3. Neue National Gallery in Berlin 
This building is from 1968, and it´s a jump from the traditional museum idea of a closed building with exhibition rooms, into an open-plan flexible space.
The building is 64.8m long, with only 2 steel columns on each side, which free the corners giving the building a lightweight look. 
A very "Mies" building, with a clear and radical idea put on a very minimal, yet detailed structure.
4. Chicago Federal Center
The Chicago Federal Center, designed by Ludwig Mies van der Rohe and completed in 1974, actually consists of three buildings which are arranged around and define the Chicago Federal Plaza. On the eastern side of South Dearborn Street sits the 30-story Everett M. Dirksen U.S. Courthouse. On the western side, the 42-story John C. Kluczynski Federal Building and the single story Post Office define the plaza.
5. Crown Hall
Ludwig Mies van der Rohe (or Mies, as he was known) already had a distinguished career before emigrating to the United States in 1937. When he accepted an appointment to head IIT's College of Architecture (at the time the Armour Institute of Technology) he also agreed to design a master plan for the school's campus. Mies sought to create a style that reflected the mechanical spirit of the age, and this drive permeated both the curriculum and the buildings he created at IIT.